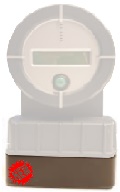 You might have experienced the unpleasant feeling associated with losing all your battery power, exactly when you need this power the most. With our new enhanced-capacity battery (Li-ion 30A, 22.2V, 4,600mAh) this is less likely to happen.
At flow rates exceeding 150ml/min, our new battery warms up to 3 liters of fluids (105 fl oz) at 4°C (39.2°F) fluid input temperature and 5 liters of fluids (170 fl oz) at 20°C (68°F) fluid input temperature.
This represents approximately 50% increased capacity over our standard battery and three to fivefold more capacity than that of the existing commercial solutions. In the prehospital settings, such unprecedented capacity of warmed fluids per single battery gives tremendous flexibility to first response, ambulatory, and transport teams while easing the operational and commercial complexities associated with carrying multiple batteries.
The form factor of the new battery is identical to that of the standard battery, with a 5% weight advantage of the newer battery (that is, the new battery is 5% lighter than the standard battery).
With the enhanced battery QinFlow also offers a new charger, that enables faster charging of the battery. With this new charger, a full-cycle charging (i.e. from a completely empty battery to a fully-charged one) will last approximately 4 hours.