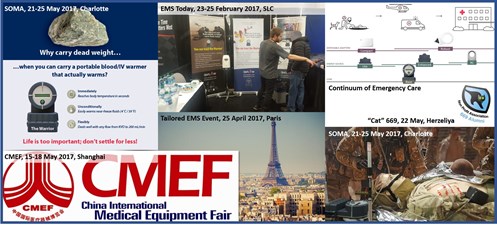 QinFlow participated for the first time in the EMS Today Conference (Salt Lake City, UT), tailored EMS event in France (Paris), CMEF (Shanghai), and "Cat" 669 (Herzeliya).
In addition, QinFlow participated for the second time in the SOMA conference (Charlotte, NC), together with Combat Medical Systems, where it unveiled its upcoming compact configurations.
The Warrior gained great traction from civil and military critical care transport teams and other emergency care professionals.
Our next conference will be the MEDICA (Dusseldorf, 13-16 November 2017).