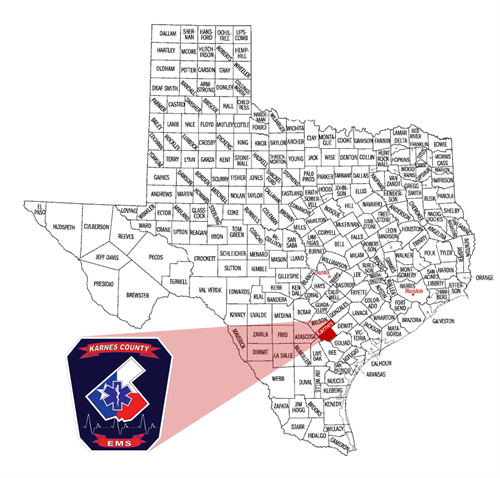 SEE FULL INTERVIEW IN KARNES COUNTY EMS FACEBOOK
Justin Mayer interviews Karnes County EMS leadership team Dennis Kelley (Chief) and Casey Ebrom (Assiatnt Chief), together with County Judge Wade J. Hedtke. In this interview, they describe Karnes County EMS' system and particularly its inspiring prehospital whole blood transfusion program initiative.
Succinctly, Karnes County EMS serves the county since early 1970s. With its 18 full time employees, the service provide 24/7 coverage to a large rural area. Karnes County EMS is part of the STRAC system.
Karnes County EMS has always been passionate about innovating and searching for ways to provide better care. The service implemented Stop The Bleed training course, and then joined STRAC's progressive whole blood program in Jan 19, 2019, just 3 months after San Antonio Fire Department implemented similar program. This makes Karnes County EMS amongst the first services in the nation to adopt prehospital whole blood transfusion program. Assistant Chief Casey Ebrom explains that the all idea is to bring blood closer to point of injury to that paramedics can replace the lost blood even prior to reaching a level one trauma center.
In their preliminary analysis, they identified 20 candidates for blood transfusion in the field during 2018. The program is not easy to implement, Casey explains, as it requires a donor system, blood coolers, blood warmers, contracts, training, and recycling system for the blood before it expires. However, within a few months from the inception of the program, the service already had 3 major success cases where the prehospital blood transfusion made a huge difference. With the whole blood program in place, Karnes County EMS is changing prehospital care. 
QinFlow is excited to partner with Karnes County EMS and supports its progressive whole blood program.