PLANO, September. 25, 2020 – QinFlow, the manufacturer of the Warrior, a modular blood and IV fluid warming solution for the entire continuum of emergency care, is proud to announce that its Warrior solution was acknowledged again for its superior performance in comparison to other battery-powered blood warmers in the Tactical Combat Casualty Care (TCCC) Guidelines for Management of Hypothermia in Tactical Combat Casualty Care.
Tactical Combat Casualty Care (TCCC) is the standard of care in Prehospital Battlefield Medicine. The TCCC Guidelines are routinely updated and published by the Committee on Tactical Combat Casualty Care, a component of the Joint Trauma System. The TCCC committee recently released Guidelines for Management of Hypothermia in Tactical Combat Casualty Care.
The TCCC Guidelines state that in a recent study, Lehavi et al. evaluated the following four in-line, battery-operated fluid warmers that were developed for use in the prehospital environment: Belmont Buddy Lite™ (Belmont Medical Technologies), enFlow™ (Vyaire Medical), Thermal Angel™ (Estill Medical Technologies), and QinFlow Warrior™. Using normal saline, they studied three warming device characteristics: (1) heating performance over time, (2) the volume that can be effectively heated, and (3) the flow resistance. The authors reported that the performance characteristics of these fluid warmers varied with flow and initial input temperatures. They studied two input fluid temperatures, 10°C and 20°C, and two fluid flow rates, 50 and 200mL/min.
Among the portable fluid warmers evaluated in the Lehavi et al. study, the Warrior™ provided the best warming performance at high infusion rates and low input temperatures (i.e., average output temperatures were 37.8°C [100°F] at 50mL/min; 36.1°C (97°F) at 100mL/min; and 34.4°C (94°F) (at 200mL/min). Only the enFlow™ and Warrior™ functioned reliably in accordance with the manufacturer's specifications. The Buddy Lite™ was limited to moderate input temperature and low flow rates, and the Thermal Angel™ was limited by battery capacity to low fluid volumes and low output temperature in cold environmental conditions.
The guidelines also mention the recently-introduce Quantum™ device (Life Warmer). As can be inferred from the guidelines, although this device was developed to military prehospital specifications, it does not meet the ideal performance characteristics for use on the battlefield, which include the warming of 4 units of whole blood at 150ml/min. There is only one device that can meet (and exceed) this aggressive spec in a small and light from factor: the Warrior lite with an Extra Power battery (6 units of whole blood at 180ml/min; 1.1kg). Since this device is FDA pending, it was not included in the guidelines.
Finally, the guidelines alert users regarding solutions that include aluminum since aluminum may be toxic.
The guidelines conclude that the use of IV fluid/blood-warming devices is an essential component for managing hypothermia caused by either penetrating, blunt, or burn trauma and should deliver consistent output temperatures at 38° (100°F) but no higher than 42°C (108°F) at a flow rate of up to 150mL/min and perform to standard within the extremes of military environments. That said, the guidelines state that currently available, FDA-approved portable infusion fluid warming devices vary significantly in regard to ideal device specifications (e.g., weight, size, cost, flow rates, output fluid temperature). Selected devices should be tested to ensure that desired performance characteristics are met.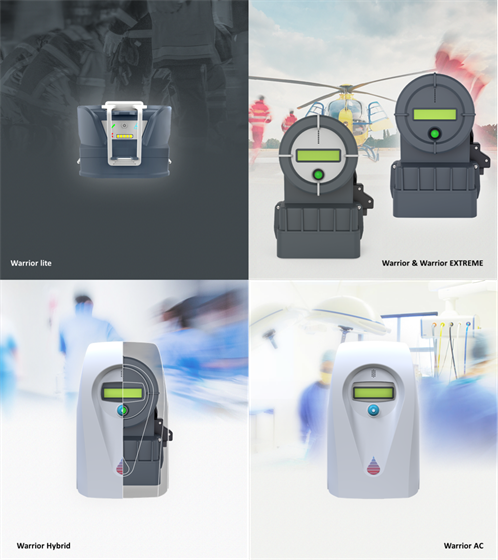 "We are very proud with the TCCC acknowledgment", said Ariel Katz, CEO QinFlow Inc. "The Warrior's superior performance is derived from its underlying state-of-the-art, highly efficient and patent-protected warming technology, which allows it to safely warm near-freeze fluids and blood products to body temperature extremely fast, even at high flow rates, thus allowing first responders, critical care transport teams, and emergency care professionals within the hospitals to focus on what they do best – saving lives", he added.
Press HERE to read the full TCCC guidelines.
About QinFlow
Since 2009, QinFlow (short for Quality in Flow) has worked to develop and perfect a proprietary fluid warming technology (patented) that delivers unparalleled levels of warming efficiency. The company's flagship product – the Warrior – provides front end rescue teams, first response teams, critical care transport teams, and emergency care professionals within various hospital settings with high performance, reliable, simple to operate, and completely portable blood and IV fluid warming device that operates flawlessly in all environmental conditions in order to fight hypothermia and save lives. QinFlow is headquartered in Rosh Ha'ayin (Israel) and Plano TX (USA). TCCC acknowledgment refers to an independent study performed by Amit Lehavi, MD, et al, that was published by the Emergency Medical Journal (BMJ; Download the full study here). QinFlow is not affiliated with the companies mentioned in the study.
For more information on QinFlow and the Warrior modular system, visit www.QinFlow.com or submit a request for a free trial for your agency by filling out your information here.