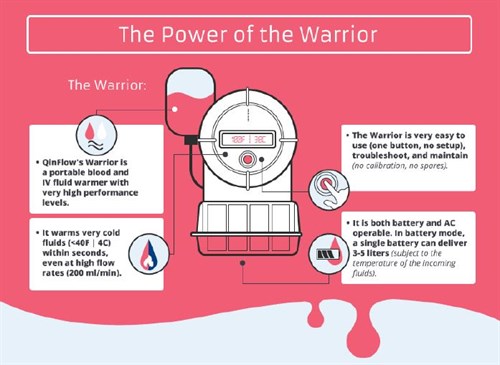 The Warrior continues to gain extremely favorable traction in the market:
Due to growing dissatisfaction from existing prehospital solution, multiple EMS organizations in the EU have recently committed to the product or are in the process of piloting it.
Some of these organizations benchmarked the Warrior's performance against that of the alternatives in lab and field settings. The results firmly confirmed – in a consistent fashion – the superiority of the Warrior, especially with respect to speed of warming, warming range, flow rates and battery capacity. We expect that some of these studies will become public soon; we expect the results to be quite overwhelming.
The emergency departments of Sheba Medical Center and Bnei Zion Medical Center have committed to the Warrior. Performance, ease-of-use and portability where key considerations.
Multiple H/EMS and level one trauma centers in the USA will start to use the Warrior in the next few weeks.
Please contact your QinFlow representative for more information.