Not all fluid warmers are created equal.
As a reminder, see below chart derived from "Comparison of the performance of battery-operated fluid warmers (Emergency Medicine Journal; 7 June 2018)"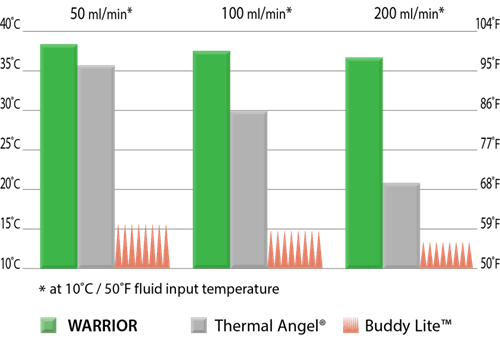 The referenced study measured the performance of the Buddy Lite™, Thermal Angel®, enFlow®, and Warrior at two fluid incoming temperatures (10 and 20 degrees Celsius) and three flow rates (50, 100, and 200 mL/min). 
The researchers reported that they "found significant differences between the fluid warmers".
They concluded that "the Warrior provides the best warming performance at high infusion rates, as well as low input temperatures, and was able to warm the largest volumes in these conditions". They also concluded that "the use of the Buddy Lite should be limited to moderate input temperature and low flow rates" and that "the use of the Thermal Angel is limited to low volumes due to battery capacity and low output temperature at extreme conditions".
The researchers recommended that due to the significant differences between the devices, "clinicians should be aware of the limitations of each device to best match it to the planned clinical use".
Buddy Lite™ is a registered trademark of Belmont® Instruments Corporation. Thermal Angel® is a registered trademark of Estill Medical Technologies, Inc. Quality InFlow is not affiliated with either of these companies. The benchmarking was performed by independent researchers in an independent lab; therefore, Quality In Flow does not take any responsibility regarding the observed results. Quality In Flow recommends that users repeat the tests in their unique environment.